Kurt Shroeder, Treasurer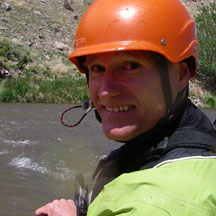 Forging great friendships, going beautiful places and sharing exciting experiences with those friends is what kayaking means to me. I have been on the river for over 20 years and been a member of the club for that long as well. I love sharing my knowledge of the sport almost as much as I love the sport itself! Bringing beginners along and seeing their ear to ear grin once they have finished their first blind drop at Tincup Rapid puts the same smile on my face.
It was finding the club 20 years ago that has probably been the biggest reason I am still on the river today, and plan to be there for another 20 years from now!
Contact Kurt: